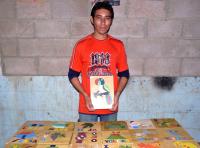 Obdulio Leiva is 27 years old and lives in Santa Marta [1], El Salvador in the colonia "Las Vegas". He is currently the president of the youth artisan cooperative "Sueños de Madera" (Wooden Dreams).
Like all young people in the community born during the Civil War (1980-1992), he doesn't call Santa Marta his birthplace. His mother and older siblings fled Santa Marta in 1981 as government attacks mounted, stopping briefly in a refugee camp in Honduras before returning to El Salvador. Odbulio was born in 1984 in the somewhat calmer department of La Libertad. The family was finally able to return to the remains of their Santa Marta home in 1991. Odbulio started school at 13 years old, completing an accelerated primary education along with many of his classmates and graduating from high school 10 years later in 2007.
He has been involved in many youth programs in the community during high-school and afterwards, including "La Rebellion", a political education and activism group sponsored by Radio Victoria, and the political newsletter "Abriendo Brecha" [2] (Making a path). He also continues to be involved in the "Memoria Historica" group, charged with protecting the history of the community. He first helped to start a youth group in 2007 that grew and evolved over the years with the help of World Vision. He serves as leader and president of the newly formed youth artisan cooperative "Sueños de Madera"—which became a legal group this November 2011. This group of 20 young people produces wooden puzzles, picture frames, and keychains for sale in the community and beyond.
Obdulio has a strong vision for what he would like this group to be for the community. He describes the group as "An opportunity for young people to share their talents, to express themselves, to continue their training, and stay motivated." His goal is that "young people feel the need to do something good for the community". At the same time, to "find a way for young people to be well-seen, respected in the community". Indeed, the group has already begun to receive positive attention from community leaders, receiving invitations to work with the school and sit at the Table of Honor for community events.
You would be hard-pressed to find a more hard-working person in Santa Marta. Obdulio´s typical day involves working the milpa (corn fields) from 5am-1pm, taking a brief rest at home to eat and watch the daily news, and heading to the youth group workshop at 3pm, where he will stay until 8pm or later. When asked what inspires him to keep going despite setbacks or frustrations, he replies "I work every day because I like it, and because I got involved early. I like helping others and sharing my experience with others. I feel that my work helps strengthen the community." He also draws inspiration from other community leaders: "In general, in the community, no one has ever said, ´I'm tired. I'm not going any further´. For me, there is no limit to what we can do. The situation of young people today is different than 10 years ago—we need to see what the current problems are and find the most effective methods. And we will achieve our objective."
What does Odbulio hope for the group in 10 years time? "To grow and become stronger. To learn more, to become a center for youth formation. To achieve respect outside the community thanks to our knowledge." To those reading from abroad, Obdulio wants to share a message of hope for the future of the youth of Santa Marta: "Young people can do a lot, even by ourselves. We can rise above our lack of experience and improve our abilities, so that we can express our ideas and our unique experiences with freedom."
To learn more about Sueños de Madera, and how you can support their work, you can visit the group's blog at http://artesaniasantamarta.blogspot.com/ [3] or contact them by email: obdulioleiva@gmail.com